Brief Biography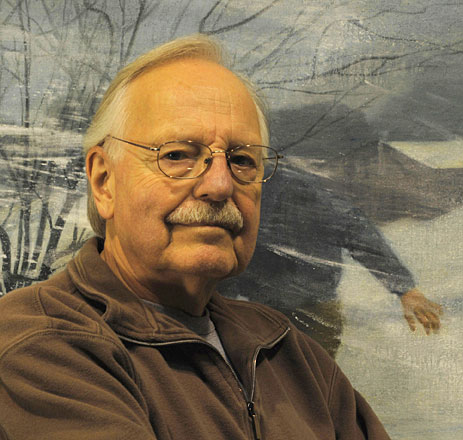 Growing up in Chicago, Kroutel attended The Art Institute of Chicago for studio art courses in painting and drawing and The University of Chicago for academic courses.
After an unsatisfying two year stint teaching Art and English in an area high school, he was motivated to move to Ann Arbor where he earned an MFA in painting at The University of Michigan. He then taught in Detroit for three years at Marygrove College and at The Society of Arts and Crafts, a professional art school.
In 1966 he took a position at Ohio University where he eventually became chair of painting, drawing and foundations for many years. Nationally and internationally exhibited with over 39 solo exhibitions, Kroutel has been awarded three Ohio Arts Council Fellowships, an Arts Midwest NEA Fellowship and numerous prizes and awards. His work most recently has appeared in the book International Painting Annual 1, published by Manifest Gallery.
As a professor at Ohio University, he had the good fortune to teach in a considerable number of Education Abroad programs in London, Prague and Florence. These experiences profoundly influenced his teaching and his art practice. More recently he finished teaching in Ohio University's London Education Abroad program starting in the summer of the year 2000.
Early in 2018, Kroutel was honored with a retrospective exhibition at the Kennedy Museum of Art in Athens, Ohio entitled "50 Year Journey: Ron Kroutel Paintings." Taking up the entire museum, the exhibition followed the 50 year developmental trajectory of his work while teaching at Ohio University and working in Athens. Curated by the internationally recognized film maker Rajko Grlic, a 100 page book in color was published by the museum.
He and his wife, Patrice Wolf, a recognized painter, now work in their studios in Old Town, Fort Collins, CO where they moved in 2017. Currently he is working on traveling the Ohio retrospective to a museum in Colorado where he can introduce his work to a new community. His journey continues.
Critics' Comments
"The huge paintings are not just landscapes; they also inhabit the border where human beings intersect nature. For the artist, that intersection can be marked by bland suburban tract houses, huge warehouses or a curving roadway. Although nature is always represented–by a large pine tree, a vine covered pole, a flying crow–the paintings suggest that it hangs in an uneasy balance. The subjects of Kroutel's art are contemporary, but their craft and scale recall 19th century oil paintings."
-Kay Koeninger, Critic and Executive Director, Dayton Visual Arts Center Coming of Age, Riffe Gallery, Columbus, Ohio, 2002.
"For Kroutel, the figure and its environment are "narrative symbols" for the elemental human experiences, ideas and ideals that go beyond racial, geographical and physical differences – the experiences of touching, sensing, moving, etc., responses to universal vitality."
-Dr. Charles Schultz, Director, Zanesville Art Center, The Time Recorder, December 2, 1976
Artist Statement
In the last few years the figure has reentered my landscapes. For the past 20 years I have painted landscapes based on Southeast Ohio, but before then I painted the figure for many years. Now I'm synthesizing the two periods by placing the figure in specific local landscapes. The landscape settings are based on actual contemporary places, times of day, and seasons, but the figures are acting out universal reactions to existence that all humans have always felt regardless of culture: cold, fear, frenzy, joy, anger, etc. It will be interesting to see how the new landscape of Colorado will change my work.
My process is to work by trial and error from life, from small landscape sketches and paintings done on site. I drive around until I see a subject that I have learned through experience has the potential to express my sense of our times. Back in my studio the small landscape studies that I do on site are combined with figure studies I imaginatively construct. The figures and the landscape are pushed against each other, distorted, recombined, rejected and brought back until I have constructed an image that is resolved.
I build the final paintings up with layers of underdrawing, glazes, oil bar textures, overpainting, scraping, and more glazes and dry pigments, always looking for an intuitive "rightness." What the landscapes, figures and techniques say about our times, I leave open to viewers any more specific interpretations.
In the News
50 Year Journey: Ron Kroutel Paintings
PDF Book | Interview
An artist finds the line between man and nature
Ohio In Focus, by Andrea Gibson
Majestic Galleries
Nelsonville, Ohio
Ron Kroutel: Long Moments
Cincinnati Arts Association
Ron Kroutel: Conceptualist Redux
AEQAI, by Marlene Steele
CoFA 75th Anniversary - Ron Kroutel - YouTube
Artist Spotlight: Ron Kroutel
ArtsOhio
Celebration of Creativity - Ron Kroutel
The Ohio Channel
Kroutel's stop-action paintings arrest viewers
Cincinnati Enquirer
Ron Kroutel - Manifest Gallery
Cincinnati, Ohio
Galleries at CSU Opens Trio of Exhibitions Today
Cleveland Scene
Athens County Artists Spotlighted At Majestic Galleries
WOUB Digital
Keep Going from Jered Marshall on Vimeo.